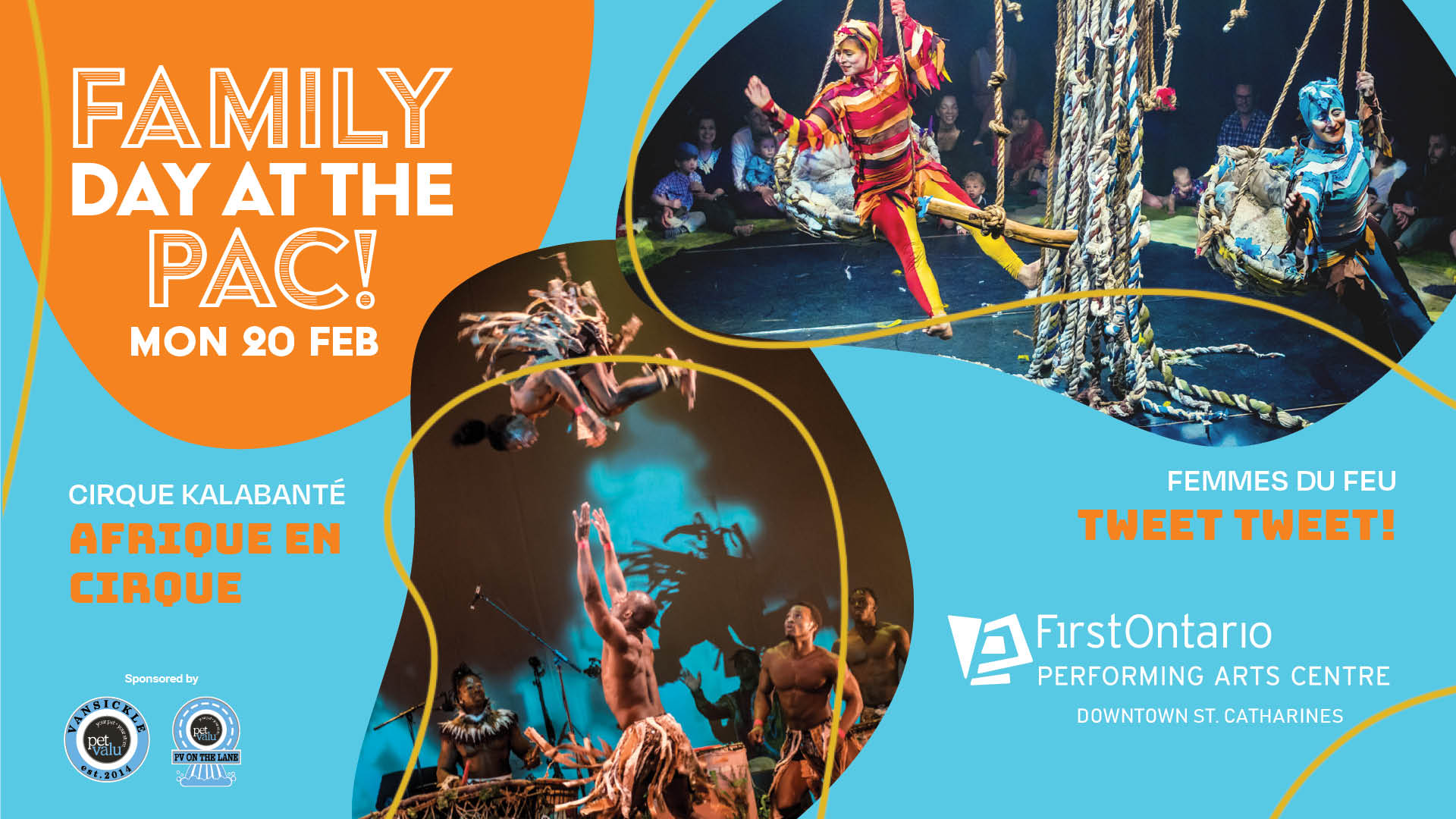 FirstOntario Performing Arts Centre presents: 
Family Day at the PAC! 2023
MON 20 FEB 2023 STARTS AT 10AM
Spend your Family Day with us!
Enjoy a few fun family shows, lots of FREE fun activities and furry friends in the lobby, films and hands-on activities! #familydayPAC

Click here to download a PDF schedule of events for Family Day 2023.

SCHEDULE: 
10am–4pm •  FREE FAMILY ACTIVITIES AND FURRY FRIENDS! Presented in partnership with Pet Valu Vansickle, Pet Valu On the Lane and Dunnville Pet Valu, we're packing the lobby with real furry friends and fun activities. Give a high five to Vinnie, the Pet Valu Mascot, and learn more about the great work of Pages, Paws, & Pals. Get to know some of the furry ambassadors of Therapy Tails, Lions Foundation Dog Guides, and the Niagara SPCA! Plus check out CODE NINJAS for coding, robotics demos, interactive retro video game console and more! ALGOMA CENTRAL LOBBY | FREE!

10am–4pm • INSTRUMENT PETTING ZOO The Niagara Symphony Orchestra staff and musicians offer fun instrument demonstrations and hands-on opportunities to try out orchestral instruments for any age. RECITAL HALL | FREE!

10am–4pm •  IGNITE THE SPIRIT OF EDUCATION INDIGENOUS BOOK NOOK Enjoy a little quiet time with a variety of Indigenous books to choose from! DOWNIE WENJACK FUND LEGACY SPACE (2nd FLOOR) | FREE!

10am–4pm • PHOTOBOOTH  Make memories and snap a selfie in our digital photo booth! Tag us and share to social using #familydayPAC JOY WILLIAMS LOBBY (2nd FLOOR) | FREE!

10:30am—12:30pm • FREE DROP-IN NFB SHORT FILMS Enjoy an assortment of new and classic Canadian short narratives from the National Film Board's (NFB) collection. Fun for the whole family! Join us in the Cogeco Community Lobby just outside the Film House for a free craft activity! THE FILM HOUSE | FREE!

10am + 12pm + 2:30pm •  TWEET TWEET! BY FEMMES DE FEU TWEET TWEET! is the story of two birds who've just hatched and start to discover the outside world. This magical journey takes place in a tree with two nests and two wood swings that hang from the branches. The birds explore moving from the nests, up into the aerial tree canopy, through the rope tree trunk, and finally onto the floor. A 30-minute immersive and experiential performance for our youngest audience, ages 0-5 years and their caregivers. ROBERTSON THEATRE ALL TICKETS ONLY $15!

1pm •  INTERACTIVE SCREENING OF BACK TO THE FUTURE Hub of the Hammer That's So Cinema! is back to host an interactive screening of the classic Back to the Future. What is an interactive screening, you say? A host will walk you through "game guide" and feel free to shout your heart out at prompts given by the host. This is a family-friendly interactive event. Bring your kids and let them get rowdy(ish)! There will be trivia and prizes! THE FILM HOUSE | SPECIAL FAMILY DAY TICKET $5!

2pm • AFRIQUE EN CIRQUE Afrique en Cirque symbolizes the strength, agility and joy of life found in African culture. A handful of daring acrobats, accompanied by their musicians, perform to the pulsating rhythm of the djembes of Guinea with their authentic and original choreography and acrobatics. With the melodious sound of the Kora, Cirque Kalabanté transports us to a place where the diversity of traditional African arts are illuminated, and combined with the virtuosity of a contemporary circus performance. PARTRIDGE HALL | ALL TICKETS ONLY $25!      



Family Day at the PAC is sponsored by Pet Valu Vansickle and Pet Valu on the Lane.