CONTACT

**TEMPORARY** BOX OFFICE HOURS   via Email & Voicemail ONLY

Due to the COVID-19 situation - The Box Office will be CLOSED.
We can be reached via email boxoffice@firstontariopac.ca or by voicemail if you leave a message - we will get back to you within 5 business days.
We appreciate your patience as we navigate through this situation.
Afterwhich, THE BOX OFFICE can be reached by:

PHONE: 
905-688-0722  (0PAC) or 905-688-5601 x3700 or toll free 1-855-515-0722 or TTY 905-688-4TTY (4889)

EMAIL: 
boxoffice@firstontariopac.ca  

IN PERSON: 
FirstOntario Performing Arts Centre, 250 St. Paul Street
St. Catharines, ON, Canada, L2R 3M2
43.158683, -79.242778
 
WE'D LOVE TO HEAR FROM YOU: Please email PACfeedback@stcatharines.ca with your comments or concerns anytime. Please note that the feedback email is monitored weekly. For more time sensitive inquiries pertaining to Box Office such as show information, purchasing tickets or membership inquiries, please contact boxoffice@firstontariopac.ca or call 905-688-0722 (0PAC).

To request TICKET DONATIONS , please click here for donation request guidelines.


PARKING
On-site parking is not available at the FirstOntario Performing Arts Centre; however, there are more than 1,000 spots available in nearby parking garages, surface lots and on city streets within a five-minute walk to the PAC. Please visit www.stcatharines.ca/Parking  for a complete list of parking locations.

We recommend the multi-level covered garage on  Garden Park with 595 spaces and 26 accessible spaces. 
(Please note that the address of this garage is 71 Carlisle Street, but the public entrance is off of Garden Park)
Parking is generally free after 6pm. Special event parking is just $5 when events are happening in Partridge Hall or Meridian Centre. Payment is by cash only and is paid on entrance to the garage / parking lots.

Drop off points are available in front of the Box Office Entrance on St. Paul Street as well as along Carlisle Street. Please note that as part of our new security protocol, all ticket holders are asked to enter through the Main Entrance doors located at the Box Office for ticket scanning.

PLEASE CLICK HERE FOR ACCESSIBILITY NOTES

We are also conveniently located kitty-corner from St. Catharines main bus terminal making us very accessible via public transit.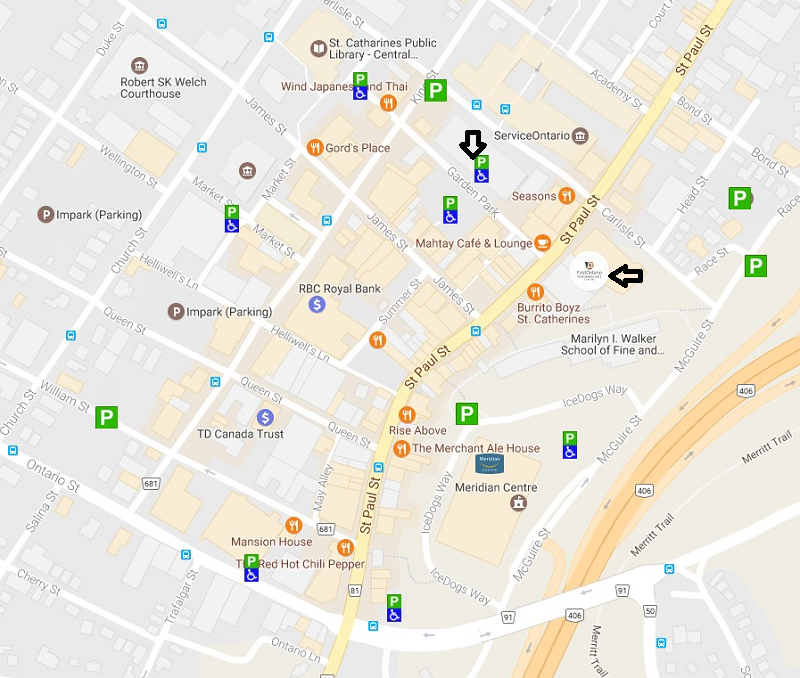 Click the map above to open Google maps. Click here for a pdf.

PAC STAFF
 
Colleen A. Smith Executive Director  905-688-5601 x3601  csmith@firstontariopac.ca
Janie Grand Administrative Assistant  905-688-5601 x3602  jgrand@stcatharines.ca  

Sara Palmieri Programming & Marketing Manager  905-688-5601 x3606 spalmieri@stcatharines.ca
Michael Chess  Marketing Supervisor  905-688-5601 x3608 mchess@stcatharines.ca
Annie Wilson Programming Supervisor  905-688-5601 x3615 awilson@stcatharines.ca
Jordy Yack  Communications Coordinator   905-688-5601 x3614 jyack@stcatharines.ca
Cathy Carr Film Program Coordinator   905-688-5601 x3620 ccarr@stcatharines.ca

Kathleen Ross  Operations Manager  905-688-5601 x3605 kross@stcatharines.ca
Linda Hilko  Rental Contract Supervisor 905-688-5601 x3607 lhilko@stcatharines.ca
Robert Nicholls   Technical Supervisor  905-688-5601 x3612  rnicholls@stcatharines.ca
Dean Malton  Technical Supervisor  905-688-5601 x3610 dmalton@stcatharines.ca
Russell Donohue  Technical Supervisor  905-688-5601 x3611  rdonohue@stcatharines.ca
Rosemarie Huber  Client Services Supervisor  905-688-5601 x3627  rhuber@stcatharines.ca
Jennie DiMarco Operations Services Coordinator 905-688-5601 x3621 jdimarco@stcatharines.ca
Bryanne Connell  Operations Services Coordinator  905-688-5601 x3631 bconnell@stcatharines.ca
Carlos Robayo  Administrative Supervisor  905-688-5601 x3604 crobayo@stcatharines.ca
Kyle Giesbrecht  Accountant 905-688-5601 x3622 kgiesbrecht@stcatharines.ca
Leona McDonald  Administrative Clerk 905-688-5601 x3706 lmcdonald@stcatharines.ca
Chelsea Marcella  Administrative Clerk 905-688-5601 x3705 cmarcella@stcatharines.ca
Mariola Hill  Box Office Clerk   905-688-5601 x3704 mhill@stcatharines.ca

FRONT OF HOUSE LEADS: KATH DAVIES, JUDY DENNIS, THELMA FORRESTER, JULIA HILL, STEPHANIE NOBLES
BOX OFFICE LEAD: LEYA POULOUSKI

PRIVACY POLICIES
Personal information provided to the FirstOntario Performing Arts Centre is collected under the authority of the Municipal Freedom of Information and Protection Privacy Act, R.S.O. 1980, 29(2), and will be used to confirm purchases and donations; to inform the purchaser/donor of changes to the event for which tickets were purchased; and to provide updates on upcoming event/fundraising initiatives. Questions about this collection should be directed to the Administrative Supervisor, 101 King St., St. Catharines, ON L2R 3H6 905.688.5601 x3604 

TICKET AND AUDIENCE POLICIES
Ticket-holder voluntarily assumes all risk and danger of personal injury, loss or damage to property arising from or related in any way to his/her attendance at the venue, whether occurring prior to, during or after the event and releases the City of St. Catharines from all liability. Ticket-holder agrees that admission to the venue is permitted conditional on his/her compliance with all applicable law and venue regulations. Any violation shall entitle management to refuse admission to and/or expel the ticket-holder, without payment of any refund or compensation. The price displayed on the ticket represents the face value and does not include all service and delivery fees where applicable. Every person, regardless of age, must hold a valid ticket. The sale or other issuance of any ticket is final and non-refundable. The venue reserves the right to not replace or accept any ticket that has been lost, stolen, forgotten, damaged or forged, or any ticket which is unreadable or incomplete. Photographs or any recordings of sound or images by the ticket-holder are prohibited. HST#11936 6813RT0001