CONTACT
BOX OFFICE HOURS

Tuesday to Friday 10am — 7pm
Saturday 2pm – 7:00pm
Sunday and Monday: During events only*

*1 hour prior to a film screening
*2 hours before an event or performance
PHONE LINES ARE OPEN:
Tuesday to Friday 10am – 7pm
905-688-0722  (0PAC) or 905-688-5601 x3700 or toll free 1-855-515-0722 or TTY 905-688-4TTY (4889)
EMAIL:  boxoffice@firstontariopac.ca  

To contact a member of our staff or a specific department please call box office and you call will be directed accordingly.
 
ADDRESS

FirstOntario Performing Arts Centre, 250 St. Paul Street
St. Catharines, ON, Canada, L2R 3M2

43.158683, -79.242778
---
PARKING
On-site parking is not available at the FirstOntario Performing Arts Centre; however, there are more than 1,000 spots available in nearby parking garages, surface lots and on city streets within a five-minute walk to the PAC. Please visit 

www.stcatharines.ca/Parking

 

for a complete list of parking locations.

We recommend the multi-level covered garage on 

Garden Park

with 595 spaces and 26 accessible spaces. 
(Please note that the address of this garage is 71 Carlisle Street, but the public entrance is off of Garden Park)
Street parking is generally free after 6pm. Special event parking is just $5 when events are happening in Partridge Hall or Meridian Centre. Payment is by cash only and is paid on entrance to the garage / parking lots.

Drop off points are available in front of the Box Office Entrance on St. Paul Street as well as along Carlisle Street. Please note that as part of our new security protocol, all ticket holders are asked to enter through the Main Entrance doors located at the Box Office for ticket scanning.

PLEASE CLICK HERE FOR ACCESSIBILITY NOTES

We are also conveniently located kitty-corner from St. Catharines main bus terminal making us very accessible via public transit.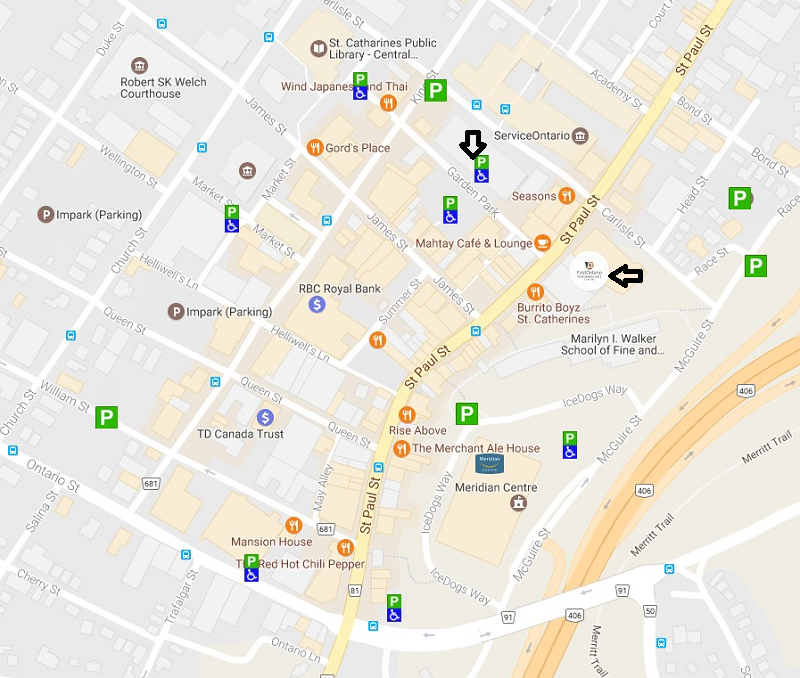 Click the map above to open Google maps. Click here for a pdf.

PRIVACY POLICIES
Personal information provided to the FirstOntario Performing Arts Centre is collected under the authority of the Municipal Freedom of Information and Protection Privacy Act, R.S.O. 1980, 29(2), and will be used to confirm purchases and donations; to inform the purchaser/donor of changes to the event for which tickets were purchased; to provide updates on upcoming event/fundraising initiatives; and for quality-of-service improvement. Questions about this collection should be directed to the Director of Finance and Administration, 250 St. Paul Street, St.Catharines, ON L2R 3M2 905.322.9833

TICKET AND AUDIENCE POLICIES
Ticket-holder voluntarily assumes all risk and danger of personal injury, loss or damage to property arising from or related in any way to his/her attendance at the venue, whether occurring prior to, during or after the event and releases the City of St. Catharines from all liability. Ticket-holder agrees that admission to the venue is permitted conditional on his/her compliance with all applicable law and venue regulations. Any violation shall entitle management to refuse admission to and/or expel the ticket-holder, without payment of any refund or compensation. The price displayed on the ticket represents the face value and does not include all service and delivery fees where applicable. Every person, regardless of age, must hold a valid ticket. The sale or other issuance of any ticket is final and non-refundable. The venue reserves the right to not replace or accept any ticket that has been lost, stolen, forgotten, damaged or forged, or any ticket which is unreadable or incomplete. Photographs or any recordings of sound or images by the ticket-holder are prohibited. HST#775203672