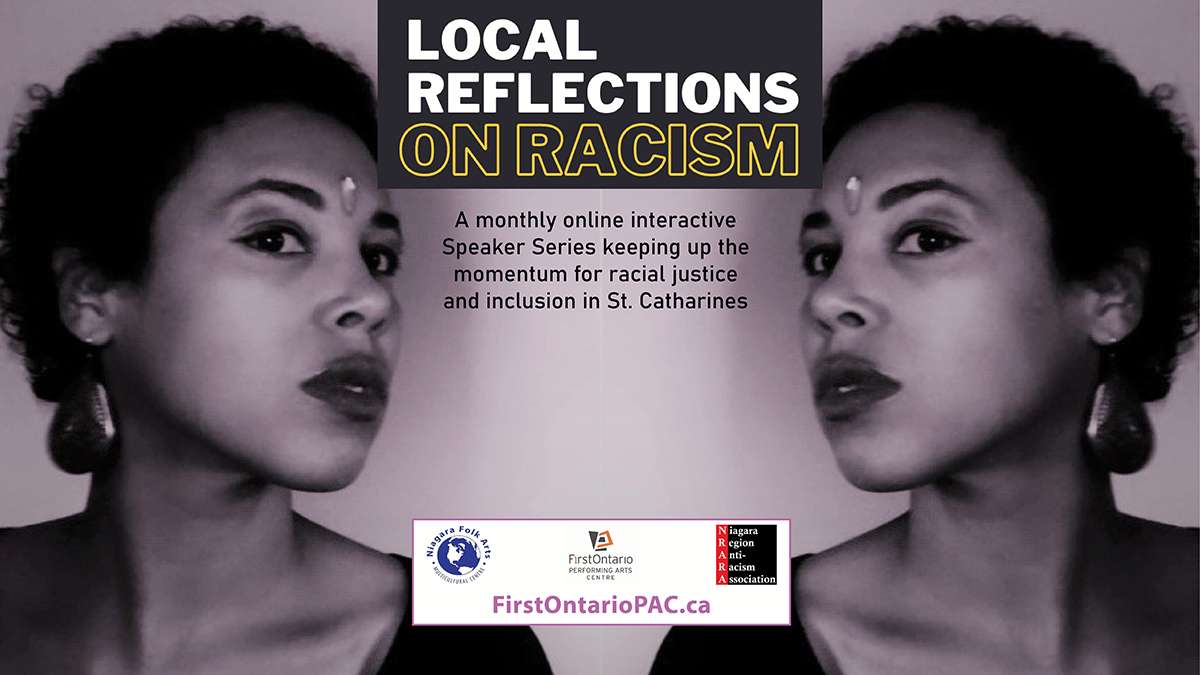 Local Reflections on Racism
Join us for a monthly VIRTUAL Online Interactive Speaker Series  (TAKING PLACE THE LAST THURSDAY EVERY MONTH - 2021 TBD) keeping up the momentum for racial justice and inclusion in St. Catharines. Presented in partnership with Niagara Folk Arts Multicultural Centre, Niagara Region Anti-Racism Association and the FirstOntario Performing Arts Centre.
 


WATCH PAST EVENTS BELOW:
Thursday 26 November 2020 at 7pm
Topic: Racism in Sport
Guest Speakers: Charles Kissi, Billy Dee Smith, Antwi Atuahene, Tabitha Lewis + more

Join the panel discussion with local prominent Black sports players and coaches discussing their own experiences of racism in their sports and life careers. Moderated by Charles Kissi, General Manager and Head Coach of Guelph Nighthawks and Podcast Host of THINK ABOUT IT, Lead Assistant Coach for Raptors 905 (2018-2020), Brock University Manager of Basketball Operations and Men's Basketball Coach (2013-2018). Kissi will be joined by Antwi Atuahene, Assistant GM for the Niagara Riverlions 2020, GM for the Mississauga Tigers High Performance Program, and Billy Dee Smith, retired professional lacrosse player and Assistant Coach for the Halifax Thunderbirds NLL team. Other panelists to be announced soon. Special performance by Toronto native singer-songwriter Tabitha Lewis who has been writing her own lyrics and producing her own music for over 15 years.


Thursday 29 October 2020 at 7pm
Topic: The intersection of art, activism, and education
Guest Speaker: Lydia Collins

Now based in Ottawa, Lydia Collins is an Author, Creator, and Sexual Health Educator from the Niagara Region. She is a graduate from Brock University's English Language and Literature program with a minor in Women's and Gender Studies, and is a co-founder of an on-campus activist group, Decolonize and Deconstruct (D&D), that focuses on providing consent education through a decolonial lens. She is the former Workshops Coordinator for Brock's Student Justice Centre and has given various workshops on and off campus focusing on social justice issues prioritizing consent and sexual health, anti-Black racism, and radical self-care. Lydia published her first chapbook of poetry titled Angry. Black. Woman. in January 2019, and her second, To Everyone We've Ever Been, in September 2020. Lydia has facilitated workshops and spoken in conferences at Brock University, Ryerson University, University of Regina, and more. Most recently, Lydia produced a collaborative video project with UNILEARNAL titled Joy Is Our Birthright that aims to capture Black joy, with a particular emphasis on Black queer and trans folx.   https://www.lydiacollins.ca


Thursday 24 September 2020 at 7pm
Topic: Parenting, and what anti-racist parenting entails
Guest Speaker: Cassandra Boom (@FitNerdyMom)


Thursday 27 August 2020 at 7pm 
Topic: How discrimination affects the overall health of the LGBTQIA2S+ community with a specific discussion on LGBTQIA2S+ newcomers. 
Guest Speaker: Felipe Ivo Costa
Thursday 30 July 2020 at 7pm
Topic: Social Determinants of Health within the Black Community
Guest Speaker: Mutsa Charamba from Positive Living Niagara and co-organizer of
#EmancipationDaySTC
with breakout groups facilitated by Josefina Perez, Amber Tallman, Edmund Frye, Marcel Stewart, Colleen McTigue and Jillien Hone.
Performances for community during breakout groups shared by Shannon Kitchings and Eve Atom. 
Watch LIVE on Facebook
Watch LIVE on YouTube