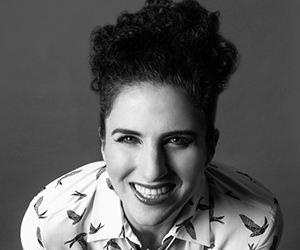 The TD Niagara Jazz Festival presents
LIVE LEARN JAZZ: A Canadiana Suite Part Six:
CELEBRATING GREAT CANADIAN FEMALES IN JAZZ Featuring LAILA BIALI
A Canada 150 Celebration
MEGALOMANIAC WINERY - 3930 Cherry Avenue, Vineland, ON - 4:30PM
When it comes to great Canadian females in jazz, Canada has an abundance of legendary world class performers and composers. Joni Mitchell, KD Lang, Jane Bunnett, Holly Cole, Molly Johnson, Carol Welsman and Diana Krall. There is no doubt one name that belongs on this prestigious and impressive list of great Canadian females in jazz. That name is Laila Biali.

Laila is an award-winning Canadian Jazz pianist, vocalist and songwriter who has toured with Suzanne Vega, Chris Botti and Paula Cole and recorded with and supported Sting. She takes the best of pop, rock and soul, informs it with her knowledge of Jazz and weaves it into her musical arrangements. Laila's music has been presented at prestigious venues spanning four continents including the North Sea Jazz Festival, Tokyo's Cotton Club, Peru's El Festival Internacional de Lima, and Carnegie Hall in New York City.

Her latest studio recording "Tracing Light"; received a JUNO nomination for "2011Best Vocal Jazz Album of the Year"; and her most recent release Live in Concert, recorded live in February 2012 in front of a gracious audience at the Glenn Gould Studio in Toronto, Canada, captures the spirit of live performance so essential to Jazz.
Opening act:  Ashley St. Pierre   
Divine ladies in the Vines!
LIVE – the experience
LEARN – the history
JAZZ – the music
The TD Niagara Jazz Festival is a new and exciting jazz festival dedicated to celebrating the art form of jazz in the Niagara Region. The festival inspires, educates and develops future jazz audiences for generations to come while combining live jazz with a Niagara experience – food, wine, culture and natural wonders. 
Early Bird: $37 + HST

Regular: $47 +HST

Season's Pass (Includes Festival Weekend events): $349 + HST

ALL TD Niagara Jazz Festival events are fully accessible as well as family friendly - appropriate for jazz lovers of all ages!
***All artists and venues subject to change. ***
* Supported in part by the Ontario 150 Fund (Province of Ontario) and the City of St. Catharines. *