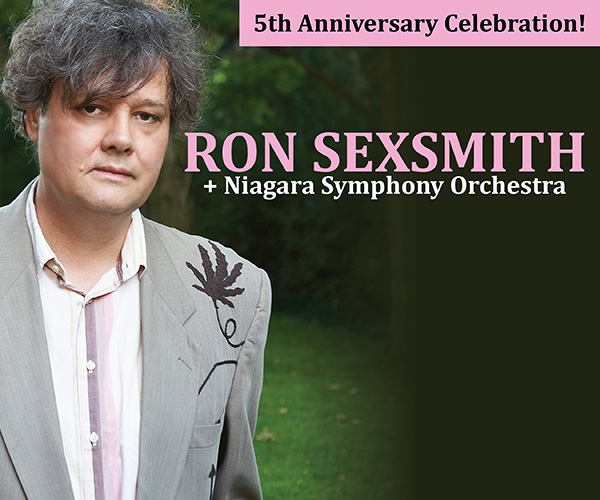 A HOT TICKET presentation and FirstOntario Performing Arts Centre's 5th ANNIVERSARY CELEBRATION
RON SEXSMITH 
with members of the Niagara Symphony Orchestra
SATURDAY 5 DECEMBER 2020 ( IN-PERSON AND/OR VIRTUAL EVENT)

Dinner at 6:30pm in Robertson Theatre
Concert at 8pm in Partridge Hall (and online)


Even before the FirstOntario Performing Arts Centre opened our doors to the community, it was St. Catharines very own Ron Sexsmith who performed at our groundbreaking ceremony.

Pandemic or not, we want to acknowledge and celebrate our 5th anniversary with you! You're invited to join us for this very special homecoming concert with the celebrated Canadian songsmith performing with members of our Niagara Symphony Orchestra with Music Director and Principal Conductor, Bradley Thachuk.

In a time when we need to celebrate and share experiences together the most, we hope that you will join us in whatever way you're most comfortable with.

OPTION A: IN-PERSON ON-SITE DINNER AND SHOW (space is limited - only a few tables remain - GET TICKETS HERE!)
Only 25 packages for two are available for the in-person dinner catered by Wellington Court followed by an exclusive and intimate live show experience in the extra-spacious Partridge Hall! This $395 package includes a four course meal for two people from Wellington Court + local wine/craft beer + LIVE show in Partridge Hall. CLICK HERE FOR THE MENU  

OPTION B: VIRTUAL SHOW TICKET (GET TICKETS HERE!)
To ensure that his fans around the world can experience this special occasion, Ron Sexmith's symphonic homecoming performance with Niagara Symphony will be live-streamed and promoted globally via #SessionsLive for just $20 CAD. Get your #SessionsLive virtual ticket to watch the livestreamed performance here: https://sessionslive.com/RonSexsmith/tickets



 
*Performance will be approximately 70 minutes long with no intermission.
*Please click here for COVID-19 PROTOCOLS – INDOOR EVENTS


At 56, Canada's foremost well-heeled troubadour Ron Sexsmith has made a most unlikely discovery: domestic bliss. Following 30 years as an emblem of Toronto's west end, Ron Sexsmith reluctantly uprooted to the serene hamlet of Stratford, Ontario, and the melodic, playful, theatrically vivacious new album Hermitage came gushing out. The result is the songwriter's most self-assured collection, still charmingly subtle yet increasingly full of musical vigor. "I think it's a very upbeat album, lyrically," Sexsmith confirms. "It's reflective of the sort of peacefulness that I'd recently felt. I'm getting more comfortable in my own skin." Check it out today and experience it live on December 5th!