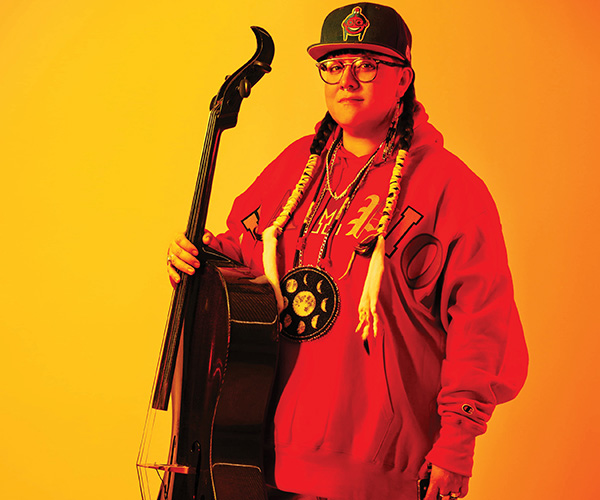 FirstOntario Performing Arts Centre presents
CRIS DERKSEN
with visuals by Adam CK Vollick 
FRI 27 NOV @8PM (PAY-WHAT-YOU-CAN VIRTUAL EVENT!)

"Derksen creates undeniably modern music that mixes folk, classical, dance, and aboriginal structures and tunes with electronic beats..." — MusicWorks

Join internationally celebrated Indigenous cellist/composer Cris Derksen for a live performance of original compositions in Robertson Theatre. Her instruments are loop pedals, a drum machine and, of course, the cello: its melodies are plaintive but catchy, growing in number as the song progresses. Performance visuals by Niagara's own video artist Adam CK Vollick, whose dreamscape visuals will illuminate and reflect the sensory performance.

Juno nominated Cris Derksen is an internationally respected Indigenous cellist and composer. In a world where almost everything — people, music, cultures — get labelled and slotted into simple categories, Cris Derksen represents a challenge. Originally from Northern Alberta, she comes from a line of chiefs from NorthTall Cree Reserve on her father's side and a line of strong Mennonite homesteaders on her mother's. Derksen braids the traditional and contemporary, weaving her classical background and her Indigenous ancestry together with new school electronics to create genre-defying music.
 
As composer Derksen has a foot in many worlds. Her 2019 compositions include Maada'ookii Songlines, a Mass Choral piece for 250 singers commissioned by Luminato Festival; Rebellion, a short symphonic piece commissioned by the Thunder Bay Symphony Orchestra; Iron Peggy, a theatre piece commissioned by the Vancouver Children's Festival; and a new performance art piece commissioned by the National Art Gallery of Canada, Ikumagiialit. 2018 highlights include a DORA Award for Best Sound Design for Theatre 2018 for Kiinalik: These Sharp Tools; TIFF Premier Biidaaban (the dawn comes), a short animation film by Amanda Strong; Ka:hawai Dance Company production of BloodTides; Kamloopa Theatre production; 2018 Banff Centre for the Arts String Quartet Residency commission White Mans Cattle; and Wood Quintet International commission 5 bucks per head.
 
As a performer Derksen performs nationally and internationally solo and with some of Canada's finest, including Tanya Tagaq, Buffy Sainte Marie, Naomi Klein, and Leanne Simpson, to name a few. Recent destinations include Hong Kong, Australia, Mongolia, Sweden, and a whole lot of Canada, the place Derksen refers to as home. In cellist and composer Cris Derksen's solo show, classical, Indigenous and urban elements combine: you may get the propulsive pounding of powwow music, the head-nodding rhythms of a hip hop track, the metronome thumps of a techno mix, or all three in the same song. Her instruments are loop pedals, a drum machine and, of course, the cello: its melodies are plaintive but catchy, growing in number as the song progresses. These hooks repeat like echoes, part of a thick mixture yet distinct within it.

Adam CK Vollick is a Niagara native, born and raised here to appreciate all the biodiversity the region has to offer. Vollick works in Canada and internationally with many lofty collaborators, including Daniel Lanois and Neil Young among others. Vollick continues to work on a diverse set of projects including documentary, narrative and experimental films. His experimental work explores Synesthesia - turning sound into sight through experimental techniques. The works muse on his curiosity around the energetic nature that underpins our physical world by manipulating the fringe mechanics of motion picture to deconstruct the line between human preception and perception.



*This virtual performance will be 60-70mins in length with no intermission.
PLEASE NOTE: This event has been changed to a virtual online streamed performance only.
*It will be performed LIVE from Robertson Theatre at the FirstOntario Performing Arts Centre in downtown St. Catharines, ON. 
*The live video will also be available for later viewing anytime until Friday 4 December 2020.