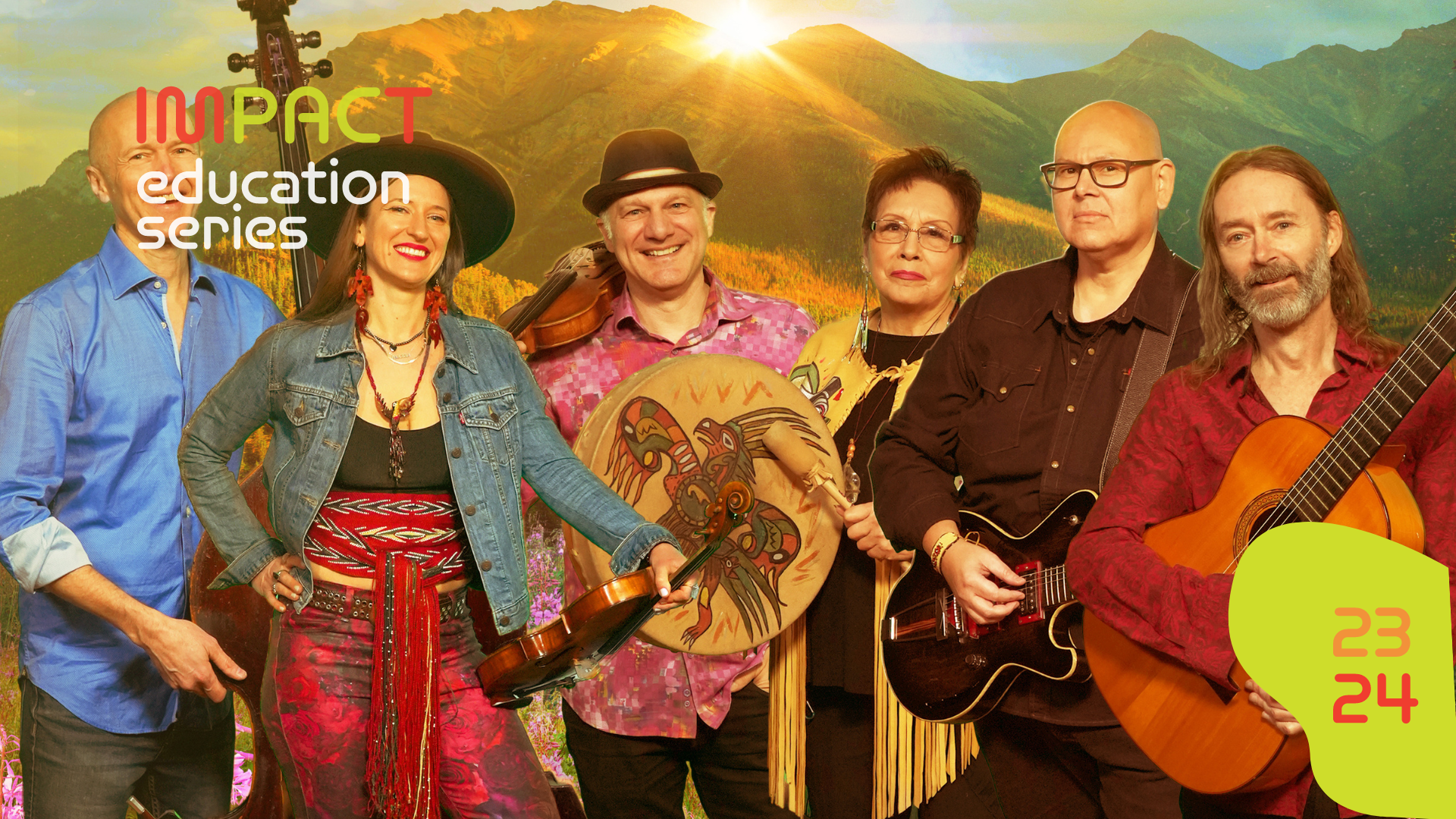 To book tickets, apply for subsidy, or for more information please contact DIANA MOSER, Programming Associate 905-322-9846 |

dmoser@firstontariopac.ca

 

Click here to download the 23-24 Impact Education Series Performance Brochure
An IMPACT Education Series performance: 
Walking Through the Fire
SULTANS OF STRING AND GUESTS WITH THE NIAGARA SYMPHONY ORCHESTRA
MON 2 OCT 2023 AT 10AM + 12:30PM
PARTRIDGE HALL 
ALL TICKETS $10 + HST

Recommended for Grades 6-12
 
Award-winning First Nations, Metis, and Inuit artists performing with JUNO Award nominees Sultans of String and members of the Niagara Symphony Orchestra, WALKING THROUGH THE FIRE is a musical multimedia event unlike any other! From Métis fiddling to an East Coast Kitchen Party, Rumba to Rock, to the drumming of the Pacific Northwest, experience the beauty and diversity of music from Turtle Island/Canada with Alyssa Delbaere-Sawchuk of the Métis Fiddler Quartet, Ojibwe/Finnish Singer-Songwriter Marc Meriläinen (Nadjiwan), and Coast Tsm'syen Elder and Singer-Songwriter Shannon Thunderbird performing on stage, as well as virtual guests on the big screen, including Dr. Duke Redbird, the Northern Cree Pow Wow group, and more!

The songs beautifully reveal the depths of contemporary Indigenous experience and music, expressed in the spirit of the Truth and Reconciliation Commission's 94 Calls to Action, and Final Report that asks that Indigenous and non-Indigenous people work together as an opportunity to show a path forward. 

"The very fact that you're doing this tells me that you believe in the validity of our language, you believe in the validity of our art and our music, and that you want to help to bring it out. And that's really what's important, is for people to have faith that we can do this... That's really good."  - Honourable Murray Sinclair - Ojibwe Elder - former chair of the TRC

"We are opening doors for each other, as Indigenous peoples, as settler peoples. It's just about further creating more openings and more connections through being a conduit... and through creating more spaces." - Alyssa Delbaere-Sawchuk, violinist — Métis Fiddler Quartet

SULTANS OF STRING 
New York Times feature pick Sultans of String creates "Energetic and exciting music from a band with talent to burn!" (UK's Maverick Magazine). Thrilling their audiences with their genre-hopping passport of flamenco, Celtic reels, roots and Cuban rhythms, the group celebrates musical fusion and human creativity with warmth and virtuosity. Fiery violin dances with rumba-flamenco guitar, while bass lays down unstoppable grooves. Acoustic strings meet with electronic wizardry to create layers and depth of sound, while world rhythms excite audiences to their feet with the irresistible need to dance. 

Equally at home in a concert hall, jazz club or festival setting, the Sultans have gigged at the legendary club Birdland NYC, the renowned U.K.'s Celtic Connections Festival, and the San Jose Jazz Festival. They have performed with symphonies across North America, and played live on BBC TV, Irish National Radio, World Cafe and SiriusXM in Washington. They just released their feature length film "Refuge - Visual Album" at a dozen film festivals worldwide.

ALYSSA DELBAERE-SAWCHUK 
Born in Winnipeg, Alyssa has completed a doctorate in classical and fiddle music traditions on the viola at the Université de Montréal. Upon learning about her Red River Métis roots, she discovered the old native and Métis style of fiddling traditions. Alyssa's mentorship with Ojibwe elder fiddler Lawrence "Teddy Boy" Houle led her to collaborate with his brother, James Flett, in creating Oméigwessi, Reel Métis: A Tribute to Walter Flett, which won Best Fiddle and Best Instrumental Album at the 2008 Canadian Aboriginal Music Awards. She is also a member of the Métis Fiddler Quartet. Their release, North West Voyage, received the Best Traditional Album award at the 2012 Canadian Folk Music Awards. 

Alyssa's passion for access to arts education has led her to develop innovative Indigenous inspired methodologies that integrate teachings of Métis history, music and culture with movement and dance. She has led her workshops at the Art Gallery of Ontario and Royal Ontario Museum. Most recently, Alyssa was selected as the Indigenous representative and artistic producer of Kuné: Canada's Global Orchestra, a project incubated by the Royal Conservatory of Music in 2017. 
 
MARC MERLÄINEN 
Born in Lynn Lake, Manitoba and raised in Thunder Bay, Marc Meriläinen's heritage can be traced to the Chippewas of Nawash, Cape Croker. Transforming the sound and image of Indigenous music has been one of Marc Meriläinen's goals from the very beginning, and his prodigious output has been recognized in many corners, including the Canadian Aboriginal Music Awards, the Native American Music Awards, the Indigenous Music Awards, and Toronto's Dora Mavor Moore Awards for the Performing Arts, along with invitations to perform at the 2010 Vancouver Winter Olympics and the 2015 Pan-Am Games in Toronto. 

From his early days as creator and performer of the multi-award nominated contemporary indigenous rock project NADJIWAN to currently producing the next wave of Indigenous musical artists, Marc has worked with numerous artists to help launch and further their career development.  In addition to writing & producing acts Marc has also promoted and produced various live shows and events including Planet IndigenUs at Harbourfront Centre and the Original People, Original Songs concert series.

SHANNON THUNDERBIRD
Shannon (M.A., B.A. Hon.), is proudly descended from the northern British Columbia Coast Tsm'syen (Tsimshian) people: Gilut'sau Band of the Royal House of Niis'gumiik, Gispudwada (Orca) Clan. She is an international Singer/Songwriter, Recording Artist, Artist/Educator, and Author. She is a well-known Speaker/Storyteller; her fireside talks and original music open the minds and hearts of audiences to the power, importance, and majesty of Canada's First Peoples. She is the Creator of Amgan Łiklgaawks (Red Cedar Sisters) Vocal Trio, Artistic Director of the Thunderbird Indigenous Theatre, and performs with choirs across the country. 

NIAGARA SYMPHONY ORCHESTRA
The Niagara Symphony Orchestra (NSO) has been an arts leader and cultural treasure in the Niagara Region for over 70 years. Established in 1948 as the St. Catharines Civic Orchestra, the organization has grown from a small community ensemble into a fully professional orchestra of over 50 musicians. The NSO Is dedicated to enriching the quality of life in the Niagara Region through diverse programming and a broad range of educational initiatives.