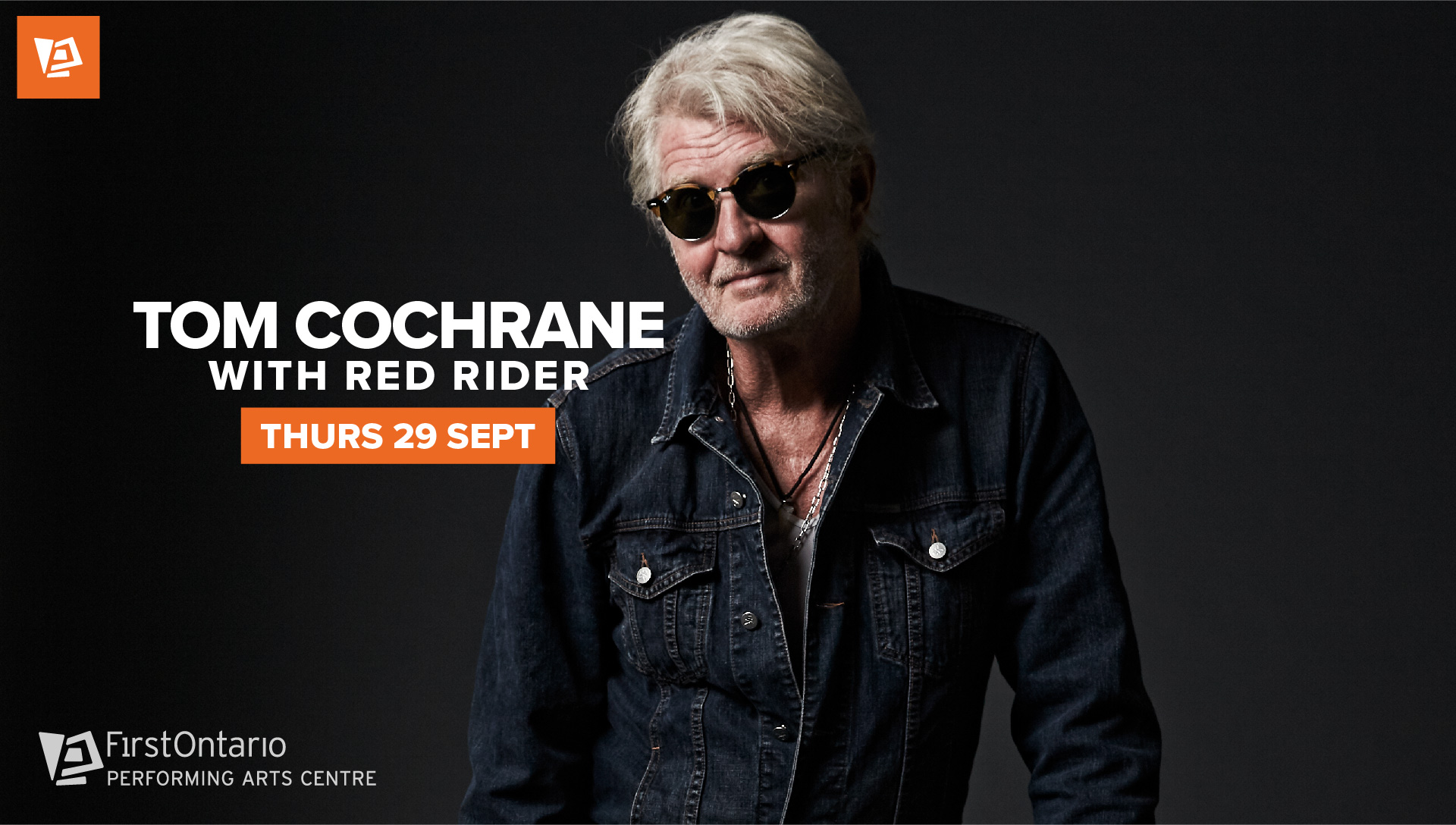 FirstOntario Performing Arts Centre presents
Tom Cochrane with Red Rider
  NEW DATE 
THUR 29 SEPT 2022 AT 7:30PM
PARTRIDGE HALL - IN-PERSON EVENT
The performance of Tom Cochrane with Red Rider originally scheduled for Fri 28 Jan 2022 has been rescheduled to Thurs 29 Sept 2022 at 7:30pm
 
Updates regarding remaining February + March programming at the FirstOntario PAC will be posted and ticket holders will be contacted as government regulations are announced. For updates, visit our Safety Lives Here page or our social media channels (@FirstOntPAC). Thank you for your patience and support during these difficult times. Take care and stay safe.
  
Legendary Canadian rocker Tom Cochrane has covered a lot of terrain over a career that now spans over 40 years and includes nods from the Canadian Music Hall of Fame, the Walk of Fame and a prestigious Officer of the Order of Canada. Cochrane will next hit the highway once again with his band Red Rider. With 17 albums and more than six million copies sold worldwide of his breakthrough 1991 album Mad Mad World, Cochrane continues to create potent new material, cementing his place in the hearts of Canadians through crowd-pleasing performances from coast to coast.

"While his music is sonically pleasing, its depth comes from Cochrane's songwriting — he is a storyteller extraordinaire and it's that combination of music and lyrics that makes
his songs special. " – Regina Leader-Post

"One of the country's most popular live acts." – Canada's Walk of Fame
Become a Member to access discounted tickets and more!
REGULAR: $75 | MEMBERS: $65
UNIVERSITY/COLLEGE: $25
HIGH SCHOOL / EYEGO: $5
ALL TICKETS ARE SUBJECT TO HST