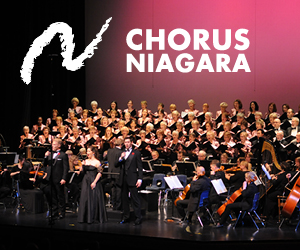 CHORUS NIAGARA
2019-2020 Season
PARTRIDGE HALL

 


Welcome to Chorus Niagara's 2019/20 season!

Please join us in Robert Cooper's 30th Anniversary Season as Artistic Director of Chorus Niagara.
We have planned an incredible season starting with the Canadian premiere of one of the great 20th century oratorios and seminal works of our age, Sir Michael Tippett's A Child of our Time , a powerful and compelling testament to human tolerance. The music is beautiful and moving, and you will be touched by the glorious spiritual settings Steal Away, Deep River, Nobody Knows and more that Tippett so effectively places throughout his masterwork.
 
In December, we Welcome Christmas with a stocking stuffed with festive carols, seasonal songs and heart-warming stories brought to life with the extraordinary theatrical flair of actor Benedict Campbell.
 
Environmental concerns weigh heavily on society today so we will introduce you to the magnificent music of the Norwegian-American composer Ola Gjeilo and his enthralling Sunrise: A Symphonic Mass, a moving musical journey complemented by stunning multi-media images that take you from futuristic cityscapes to the starry heavens.
And to conclude, the silly, sardonic and scintillating sounds of Gilbert and Sullivan. Laugh with us, hum along and enjoy this evening of Topsy Turvy G&S hits!
 
Stirring, frivolous, traditional and bold!  It's the Power of 100 ...and more!
 
Special thanks to our Season Sponsor: Norris Walker
 
 
SINGLE TICKETS: (Handling Fee + HST extra)
$47*: Adult
$45*: Senior (60+)
$30*: Under 30
$20*: Student (University or College with valid ID)
$15*: Child (Age 15 & under)
$5: High School Student (with valid ID)

www.chorusniagara.org